This week, we have fifteen interesting up to date articles, some with audio and video accounts, to suit all level students, taken from different news and general websites. You will be able to discuss these topics with our teachers.
Pick one, read it – write down new vocabulary, then let your teacher know before the lesson what article you want to talk about. Check out the different topics:
Current Affairs
Business , Economy & Law
Science & Technology
Culture & Leisure
Health & Lifestyle
——————–
Current Affairs
From: BBC.com
Level: Intermediate
Includes: Article and Video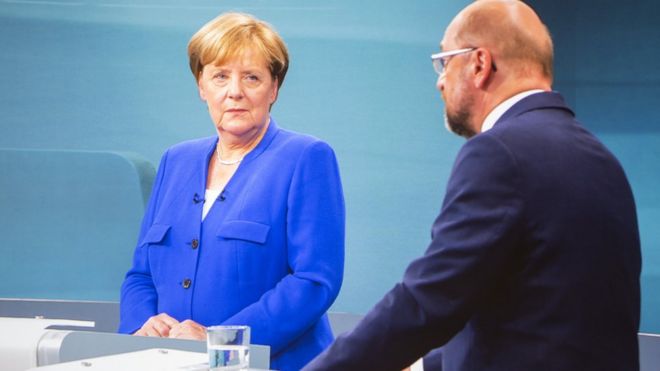 This was supposed to be the highlight of a lacklustre election campaign. For months German Chancellor Angela Merkel's conservatives have enjoyed a significant lead over their nearest rival – and current coalition partner. The TV stations prepared their viewers for an impassioned, furious debate but Angela Merkel has been in the job for 12 years, and it showed.
Read more
Questions:
How long can a leader of your country serve? And do you think there should be a limited time in office?
What is your opinion of Angela Merkel how does she benefit Europe?
Vocabulary:
Bullish form- adjective obstinate or stupid.
Lackluster- adjective lacking in vitality, force, or conviction; uninspired or uninspiring.
Land a blow- idiom make a point
Rhetorical- adjective expressed in terms intended to persuade or impress
From: The Local
Level: Low intermediate and above
Includes: Article


French President Emmanuel Macron called Sunday for a "very firm" response by the international community to North Korea's announcement that it had successfully tested a hydrogen bomb.
Read more
Questions:
What do you feel about the North Korean Situation is it stable or needs to be contained?
Do you agree with President Macron?
How can the world deal with this threat?
Vocabulary:
Condemnation- noun the expression of very strong disapproval; censure.
Dismantlement- verb the act of taking something apart
Escalation- an increase in the intensity or seriousness of something;
Provocation- noun action or speech that makes someone annoyed or angry, especially deliberately.
From: Voice of America
Level: low intermediate and above
Includes: Article & Audio


Houston, a city in the American state of Texas, will face worsening flooding conditions as Tropical Storm Harvey continues to rain on the city.
On Friday, Harvey, the strongest storm to strike Texas in 50 years, came ashore near Corpus Christi, about 354 km south of Houston. It has since remained around Texas' Gulf Coast.
Read more
Questions:
Do you think the flooding is attributed to global warming?
Have you ever been involved in a disaster either as a volunteer or a victim?
What can be done to help the survivors?
Vocabulary:
Administrator – noun. a person whose job is to manage a company, school, or other organization
Refinery – noun. a place where something, like oil, is refined
Reinsurance – noun insuring (something) again so that the insurance is shared by more than one company
Worsen – verb to make (something) worse or to become worse
Business , Economy & Law
From: City.am.com
Level: Intermediate and above
Includes: Article


At this time of year, after well-deserved summer breaks for many, it feels like the City is getting back into the swing of things.
I managed to squeeze in a few days off myself by heading to the Edinburgh Festival, but I am now gearing up for a busy last few months in office. We are an international city for business, welcoming talented individuals from across the world
Read more
Questions:
What reputation does the city of London have in the global money market?
How important is it to hold on to its position in the international money market?
Given Brexit, how can the UK do this?
Vocabulary:
Anecdotally- adjective in the way of a story or personal observation.
Auxiliary- adjective providing supplementary or additional help and support
Backed up- phrasal verb UK to confirm or verify something
Trading hub-noun a place where goods from other places are bought and sold
From: Human Resources today
Level: Intermediate and above
Includes: Article


Protected religious practices include praying and attending religious worship services; wearing religious attire or symbols, such as rosary beads, hijabs, and turbans; and religious expressions such as displaying religious objects and symbols. Refraining from certain activities, such as working during the Sabbath, is also a religious practice. It's important for employers to understand the basics about the following three related areas in order to respond appropriately and avoid potential litigation:
Read more
Questions:
Why is it important for employers to create an inclusive environment which respects& accommodates all religious and cultural needs of their employees?
How does this work in your country?
Vocabulary:
Grooming- verb give a neat and tidy appearance to someone
Harassment- noun aggressive pressure or intimidation
Reasonable accommodation – noun any modification or adjustment to a job or the work environment that will enable a qualified applicant or employee to participate in the application process or to perform essential job functions.
Staggered- verb arrange events, payments, hours, etc. so that they do not occur at the same time; spread over a period of time.
From: Inc.com
Level: Intermediate
Includes: Article


Of all the communication skills, listening is by far the most underrated. There are countless books and courses on how to be a better public speaker, much less on being a better listener. If you want to be a top-notch leader, you have to be an effective communicator and that includes being a good listener.
Here are three simple, yet effective ways, to train your listening muscles
Read more
Questions:
Do you consider yourself a good listener?
How do you strengthen your listening skills?
What gets in the way of you being a good listener?
Vocabulary:
Chatter- verb talk rapidly or incessantly about trivial matters.
Cropping up- phrasal verb appear, occur, or come to one's notice unexpectedly.
Snappy- adjective informal cleverly concise; neat
Underrated- verb underestimate the extent, value, or importance of someone or something.
From: Business Insider
Level: Intermediate
Includes: Article


Job creation in the US slowed in August after a stronger start to the summer, and the unemployment rate ticked up from a 16-year low. The unemployment rate rose to 4.4% from 4.3%.
Read more
Questions:
Do you think a 1% rise in unemployment is significant of something, or could it be just seasonal and people should not worry?
What are the unemployment figures in your country and what is the main cause of unemployment?
Vocabulary:
Discernible- adjective able to be discerned; perceptible
Forecast- verb predict or estimate a future event or trend
Gauge- verb estimate or determine the magnitude, amount, or volume of.
Ticked up – phrasal verb informal USA, slightly rose showed growth
Science &Technology
From: Newsy.com
Level: Low intermediate and above
Includes: Article and Video


Alexa and Cortana, two digital assistants with very different strengths and uses, will soon be able to work together.
It may sound weird — maybe even a little creepy — but the project has been in the works for over a year.
Read more
Questions:
Do you use a digital assistant?
Which one do you or would you use?
What do or would you use it for?
Vocabulary:
Creepy- adjective informal causing an unpleasant feeling of fear or unease.
Digital assistants- noun also called a virtual assistant, is an application program that can understand natural language and complete electronic tasks for the user.
Go all terminator – idiom destroy something or someone
Got the ball rolling- idiom get a process started
From: Livescience.com
Level: Intermediate and above
Includes: Article


Researchers working in Antarctica found some species of marine life can double when water temperatures increase by only 1 or 2 degrees Celsius (1.8 or 3.6 degrees Fahrenheit), according to a study published today in Current Biology. the findings were a snapshot of what might happen on a wider scale if ocean temperatures continue to rise.
Read more
Questions:
According to this article this situation causes winners and losers, can you explain who they are and how they are effected?
How important is this kind of research and why?
Vocabulary:
Hindsight-noun understanding of a situation or event only after it has happened or developed.
Thrived- verb grow or develop well or vigorously.
Tricky- adjective informal requiring care and skill because difficult or awkward.
Unassuming- adjective not showy ; modest, normal
Culture & Leisure
From: Mic.com
Level: Intermediate and above
Includes: Article


Decked out in a garish blue poncho on board the Maid of the Mist, I first saw Niagara Falls' enormous, foamy mass of water when I was 24 years old. On every side of me, fellow tourists took selfies as they tried to avoid getting soaked by the mist, with perhaps none of us realizing the surrounding region was so much more than a pretty vacation site.
Read more
Questions:
Before you read this article were you aware that Niagara had such an important position for the escaped slaves seeking freedom in Canada?
What do you know about the emancipation of the slaves in the USA?
Have you ever visited or wanted to visit Niagara Falls?
Vocabulary:
Abolitionist- noun a person who favors the abolition of a practice or institution, especially capital punishment or (formerly) slavery.
Garish- adjective bright and showy; lurid.
Murky – adjective (of liquid) dark and dirty; not clear.
Omri did interview the interview on the phone and he
Suspension Bridge- noun a bridge in which the weight of the deck is supported by vertical cables suspended from larger cables that run between towers
Swirling – verb move in a twisting or spiraling pattern.
From: The Telegraph.co.uk
Level: Intermediate
Includes: Article.


14-year-old British girl has become the first non-Japanese person to win a prestigious haiku competition.
Gracie Starkey was among 18,000 entrants to the contest, which is held annually.
Her winning haiku – a three-line Japanese poem that traditionally evokes images of the natural world
Read more
Questions:
Did you know what a haiku was before reading this article?
How important is it for students to learn about other languages and cultures from all around the world?
What according to this article was Gracie Starkey impression of Japan?
Vocabulary:
Evokes- verb bring or recall to the conscious mind.
Exceptional- adjective unusually good; outstanding.
Muddled-adjective in a state of bewildered or bewildering confusion or disorder
Prestigious- adjective inspiring respect and admiration; having high status.
From: Dogonews.com
Level: Low Intermediate & Younger students
Includes: Article, Audio and Video


Most toys are fads that last a few years, or even months, before they get replaced by the next craze. However, the Slinky – the pre-compressed coil of wire, or plastic, which can "walk" on its own – has been entertaining children and nostalgic adults for over 70 years! It is therefore not surprising to hear that every August 30, fans across the U.S. celebrate this iconic toy with a National Slinky Day!
Read more
Questions:
Did you ever have a slinky toy?
What was your favorite childhood toy?
What happens to most toys? Why is the slinky different ?
Vocabulary:
Accidentally- adverb by chance; inadvertently.
Estimated- verb roughly calculate or judge the value, number, quantity,
Unveiling- verb show or announce publicly for the first time.
Unwittingly- adverb without being aware; unintentionally.
Health & Lifestyle
From: Scarymommy.com
Level: Low intermediate and above
Includes: article


The diabetes box is a life-saver for children
As summer comes to a close, most everyone with kids is getting in back-to-school mode. There's the usual shopping for school supplies, new clothes, and for some with special needs, there are a few more crucial preparations. We're talking life-saving measures.
Read more
Questions:
What do you think of this diabetes box do you think it is a good idea what are the advantages and disadvantages?
What other situations could you imagine a special box being helpful?
Vocabulary:
(Crucial- adjective of great importance.
Dizzy- adjective having or involving a sensation of spinning around and losing one's balance.
Equipped- verb supply with the necessary items for a particular purpose.
Substitutes- noun a person in this context teacher acting or serving in place of another.
From: IBTIMES
Level: Intermediate
Includes: article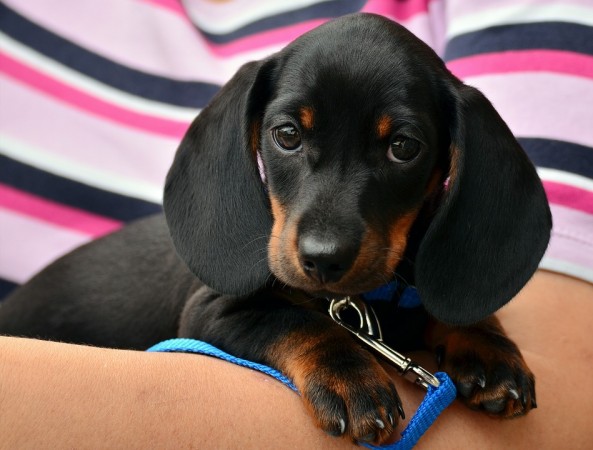 A research found that people who take their dog out for a walk have an impact on their mental health too. Reports state that dog walking actually makes people feel happy. This new study is carried out by the Psychologists from University of Liverpool with Dr Carri Westgarth as the lead author, which found that the people who go for dog walking do it as it helps them in feeling happy and not because it benefits them health-wise and socially.
Read more
Questions:
Have you got a dog? How does walking them make you feel?
Do you believe that the happiness of the dog owners depends on their belief about their dog having fun during the walk? Why?
Vocabulary:
Perceptions- noun the ability to see, hear, or become aware of something through the senses
Analysed- verb discover or reveal something through detailed examination.
Enthusiasm- noun intense and eager enjoyment, interest, or approval.
Intervention -action taken to improve a situation, especially a medical disorder.
From: Futurity.org
Level: Intermediate
Includes: Article



Chronic, debilitating pain hits people with fewer financial resources the hardest, new research suggests.
A large number of Americans live with chronic pain, which can limit their quality of life and leads some to seek relief from potentially dangerous opioid medications.
Nearly 10 percent of Americans over age 50 suffer from high-impact, long-standing pain that has a substantial negative effect on work, social, or other everyday activities.
Read more
Questions:
Do you or any one you know suffer from chronic back pain how does it affect yours or their life?
Why do you think social economic background, race and age have an impact on our ability to deal with chronic pain?
Vocabulary:
Accumulating-verb gather together or acquire an increasing number or quantity of.
Complementary treatments –noun are used alongside conventional medical treatments prescribed by your doctor.
Disparities- noun a great difference.
Quartile- noun each of four equal groups into which a population can be divided according to the distribution of values of a particular variable.
——
That is all for this week, we hope you have enjoyed the articles selected for you. Please let us know what type articles you particularly liked or if you would like another type of articles included in our fortnightly list.
Share your thoughts and comments on our Facebook page or tell your teacher.